Baked 4 Cheese Pasta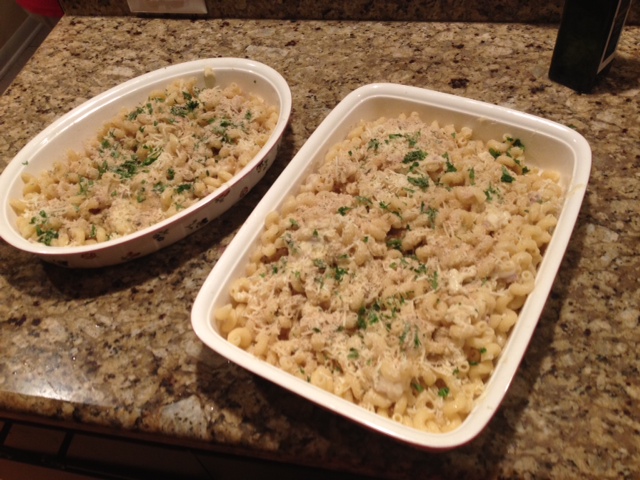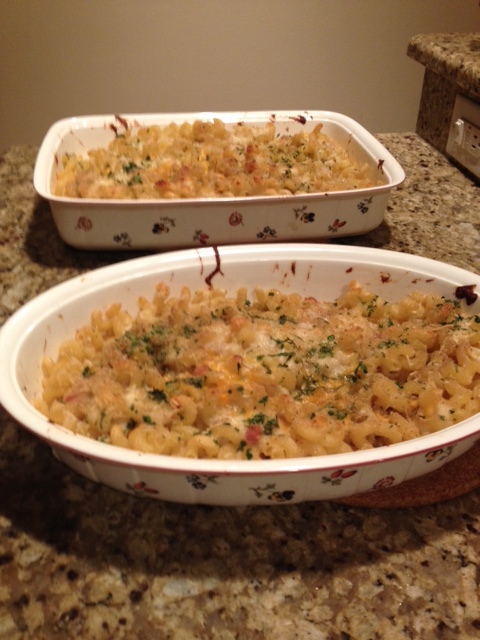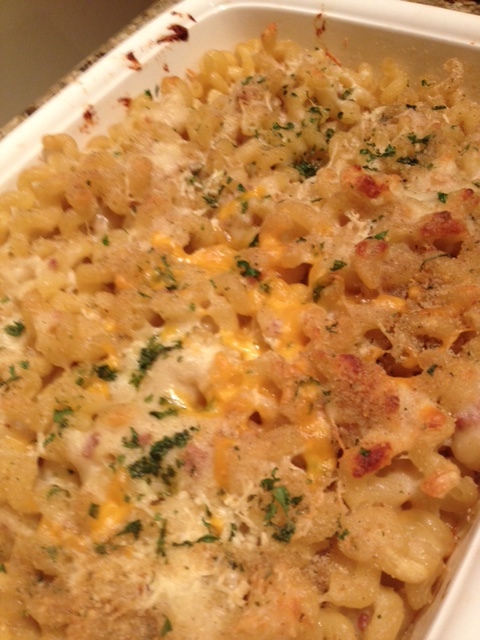 October is National Pasta Month! Delicious baked pasta is perfect for a meatless Monday dinner or Friday evening family get together. Easy to prepare & can be made ahead of time, we combined recipes from Cooks.com along with Food & Wine.com for a hearty fall dish that serves 4 to 6.
Ingredients:
16 oz. pasta such as radiatore, rotelle or penne
4 tablespoons of Villa Gabriella Organic Extra Virgin Olive Oil
4 tablespoons all-purpose flour
2 cups milk
4 ounces fontina cheese grated or sliced
4 ounces mozzarella grated or sliced
4 ounces asiago cheese grated or sliced
3 ounces Parmigiano Reggiano cheese grated
3 tablespoons fresh flat leaf parsely, minced
2 tablespoons panko or plan bread crumbs
Sea salt & fresh cracked pepper to taste
Directions:
Preheat oven to 350°. Lightly oil a shallow 2-quart baking dish.
In a large pot of boiling salted water, cook the pasta until tender but still quite firm. Drain thoroughly & transfer to a large mixing bowl.
Add oil in a medium size saucepan over medium heat. Add flour & cook about 3 minutes until smooth stirring frequently.
Gradually whisk in the milk & cook 3-5 minutes until thickened stirring constantly. Season with salt & pepper
Combine all the cheeses equal to approx. 4 cups.
Add 3 cups of the mixed cheeses in the milk sauce, stirring to combine. Mix remaining 1 cup of cheese with the bread crumbs & set aside.
Pour melted cheese sauce & parsley over pasta, mix thoroughly.
Transfer pasta to baking dish & bake uncovered 15 minutes until bubbly.
Remove from oven, sprinkle reserved cheese & bread crumb mixture. Bake 5-10 minutes until top is golden brown.
Remove from the oven, allow to "rest" for 5 minutes, serve & enjoy!
Tried, Tasted & True!
At Villa Gabriella Organic our team tries & tastes every recipe we feature. While we love to share our family recipes & those of talented home cooks & chefs, sometimes we adapt them so they are even easier to make. As with our products, our goal is for you to have a healthy & delicious experience using Villa Gabriella recipes. So try them out in your kitchen, feel free to tweak them & please tell us what you think. We welcome your comments & feedback!
Grazie da Team VILLA GABRIELLA
clientservice@villagabriellallc.com